Cast off for the most famous of the Golden Islands, Porquerolles from Bormes-les-Mimosas - La Favière. Take a seat on board our hybrid boatO₂ , for a commented, comfortable and human-sized crossing.
---
A crossing for Porquerolles in a hybrid boat with commentary ...
After passing Cap Bénat and the bay of Le Lavandou, you arrive at Porquerolles by the Cap des Mèdes; the starting point of your guided sea tour along the northern coast of the island. Let us tell you about its history, while sailing silently on the turquoise waters of Notre-Dame beach (elected most beautiful beach in Europe in 2015) and of the Courtade. Head for the island's port where you will disembark for a heavenly day's stopover.
... and a stopover for the day on the Island of Porquerolles
Once on the island, enjoy the village of Porquerolles where you will find, at the bottom of a small harbor, shops and restaurants. Then go and discover the pearl of the Golden Islands. Follow its marked trails, on foot or by bike. And finally, take advantage of its large white sandy beaches which make the reputation of the island of Porquerolles.
---
The island of Porquerolles is the largest and most inhabited of the three islands of Hyères. Its circumference, of about thirty kilometers, makes it a real paradise for hikers and mountain bikers. The island culminates at the semaphore at 142 m. It forms an arc oriented east-west of 7.5 km long and 3 km wide for an area of 12.54 km ². The island of Porquerolles has several faces:
The north coast is made up of beautiful sandy beaches bordered by vegetation and pine trees.
The south coast, as in Port-CrosThe south coast, like the south, is steep and wild, dominated by cliffs where coves and creeks are hidden and worth a visit.
In the centre, cultivated plains with vineyards and plant collections from the national botanical conservatory.
Moreover, our crew will be happy to answer all your questions and make you live a unique experience. So don't wait any longer, book your place on boardO₂ now!
---
Book your Boat Tour for Porquerolles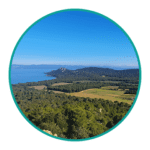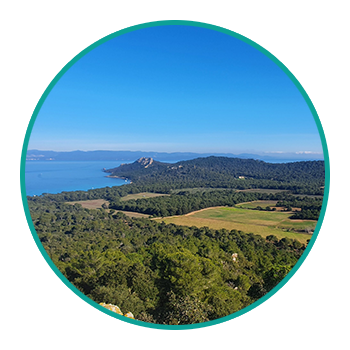 After enjoying your boat trip to Porquerolles and your guided tour on board our hybrid boatYou will arrive at the port of Porquerolles for your one-day stopover on the island. What to do during your stopover in Porquerolles ? A heavenly destination, between nature, culture and landscape!