TheO₂ and its crew will have the pleasure to welcome you for a 2 in 1 cruise around the jewels of the Golden Islands: Porquerolles and Port-Cros.
A cruise in a Hybrid boat
With its hybrid propulsion system, quieter and more ecological, our human-sized boat will offer you an unparalleled sailing experience, in harmony with the preserved nature of the islands.
A stopover on Porquerolles
In the early morning, board theO₂ and set course for Porquerollesplace of your first stopover ! You will be able to enjoy the paradisiacal beaches and the varied activities that it offers. From swimming to culture, cycling to hiking, there is something for everyone. You can also enjoy fine dining at one of the island's many restaurants or have a picnic on a white sandy beach (at your expense 😉 !).
Then in the early afternoon, take to the sea for a guided tour around Porquerolles and Port-Cros, without noise or smell, to allow you to contemplate in all serenity the wonders of these preserved islands. Our crew will be at your disposal to answer all your questions about the fauna, the flora, the history and the local legends.
... and on Port-Cros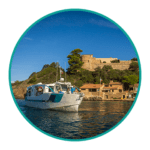 You will then stop in the picturesque village of Port-Cros, where you can stroll through its colorful streets or visit the Fort du Moulin. You will also be able to refresh yourself and enjoy the atmosphere of the village on the terrace of one of its restaurants before heading back home.
Throughout your cruise, you will be able to admire the spectacular scenery of the Mediterranean, with its crystal clear waters, wild coves and steep cliffs.
After this unforgettable day cruise, the islands of Porquerolles and Port-Cros will no longer hold any secrets for you!
Moreover, our crew will be happy to answer all your questions and make you live a unique experience. So don't wait any longer, book your place on boardO₂ now!
---
Book your 2 Islands Cruise